world of motion epcot disney world test track walt disney orlando future world world showcase general motors GM test track world of motion EPCOT center magic kingdom disneyland animal kingdom college program international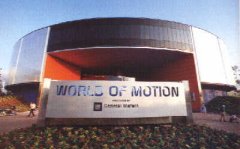 World of Motion Pavilion October 1, 1982 - December 31, 1995.
Imagine a World of Motion...
"Take a rib-tickling ride through the evolution of transportation and see just why 'It's Fun to be Free!' Discover how mankind's progress has been directly related to worldwide innovations in mobility - and take a look at how tomorrow's transportation will change the face of our cities."
- Ride Description, EPCOT Center Guide Book
| | |
| --- | --- |
| | Epcot's World of Motion Pavilion stood for almost a decade and a half as one of Epcot's most popular and beloved attractions. This sleek, circular structure housed one of Disney's largest collections of Audio-Animatronic figures (188) set in 24 scenes. Each one depicted the progression of transportation and society through the ages. The omnimover-type ride took up to 20,000 guests per day through the attraction, creating 20,000 smiles in the process (and 20,000 people with the "It's Fun to be Free" song stuck in their head). On the first floor of the pavilion, the General Motors TransCenter provided a hands-on look at emerging transportation designs and achievements. Various Innoventions-style exhibits explained the concept, design, and manufacturing stages of vehicle production. It also gave guests a glimpse of GM's latest offerings. This pavilion housed one of Epcot's most exciting offerings. But in 1995, "It's Fun to be Free" |
| played for the last time. GM and Disney had decided to gut the attraction, and replace it with Test Track. The new ride promised to take guests on a high-speed adventure through an automobile testing facility. Opening day of the new ride came and went - five or six times. One can only stand in front of the silent pavilion, devoid of any activity, and reminisce about the days when horses caused traffic jams, used-chariots were all the rage, and the city of the future was on display for all to see. For now, at least we have the memories... | |
UPDATE! Test Track will soft open to Epcot cast on December 11, to WDW cast on the 12th, and be turned over from imagineering to WDA on the 18th or 19th. At that point, the decision to open to guests is strictly up to Epcot management. They have stated that it will open in a limited (read: very long lines) capacity over the holidays, with an official grand opening (at full capacity) in March. Currently, they are running 23 vehicles on the track, with a 16s dispatch time. It's about time!
Interested in Disney's Animal Kingdom? Visit...

Now up! The Website for future Cast Members and Alumni...

Sign My Guestbook
View My Guestbook
This page has been created, designed, and constructed by Andy Saito.
This page is not produced, sponsored, or approved by the Walt Disney Company. All registered trademarks and names are copyrighted by their respective companies. All Disney character images and some photographs © the Walt Disney Company. I are not responsible for anything, or so I have been told.
Website design © 1998 Andy Saito.
This page was last updated on 12/08/98.